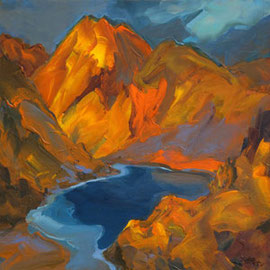 Welcome to Coromandel, New Zealand
Barbara von Seida´s artwork forms part of many private, public and corporate collections and has featured exhibitions in Germany, Ireland, Japan and New Zealand. Her work has been published both nationally and internationally and additionally, Barbara has received numerous awards, both in New Zealand and overseas.
The Gallery also features watercolours by Coromandel artist, the late Patrick Greene whose paintings of local scenes are refreshingly quirky.
Born in Germany, Barbara trained for 5 years in Art and Design (3 years in textiles and 2 years in ceramic/product design) at Fachhochschule (University of Applied Sciences — design faculty) in Krefeld, Germany. After graduating in the textile medium, Barbara worked as an employee with, amongst others, the international company Vereinigte Seidenwebereien A.G. (United Silk Weaving Company) in Krefeld, and also as a freelance fabric designer.
In 1984, Barbara migrated to south-west Ireland where she established a studio and became widely known for her creative achievements in both ceramics and watercolour painting. In 1990 she moved to New Zealand and established the Kowhai Water Colour Studio in Coromandel, and in 1993 was joined by local artist Patrick Greene. 2004 saw the opening of a fully dedicated gallery in her new cliff top home, overlooking Long Bay. In April 2005 Barbara attended The Julian Ashton Art School, Sydney and studied under the tutelage of David Briggs and Rod Wong.
Barbara's cliff top home overlooking Long Bay and the Hauraki Gulf includes a purpose built gallery and a separate painting studio. The location offers an abundance of inspiration that feature in her vibrant scenery, still life and floral paintings. Her paintings are in both watercolour and acrylic.
---